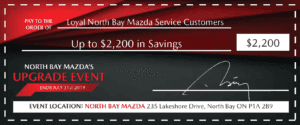 North Bay Mazda's Summer Drive Event
WE NEED YOUR TRADE!
You are invited to North Bay Mazda's Upgrade Event!
Qualifying Customers: Loyal North Bay Mazda Service Customers
Please join us before July 31st 2019 to upgrade your vehicle. This is a limited-time offer not normally available to the general public.
Here's what we're offering for you trading in your current vehicle:
Receive up to a $1,000 towards your trade-in through the Mazda Summer Drive Event
Receive an ADDITIONAL $1,000 towards your trade-in from North Bay Mazda
Book your appointment and receive a $200 booking bonus towards your purchase!
North Bay Mazda will make you an offer to upgrade your current vehicle on the purchase, finance, or lease of any new vehicle. We value you as a customer so we've made it easy for you to activate this offer. Simply request an appointment below.
A customer communication specialist from North Bay Mazda will contact you to set up your time slot. Please note, a no-charge vehicle appraisal and visual inspection of your vehicle will be required.
*Offer valid until July 31st 2019.